September 30th, 2016 by Sharkchild
While vacationing with friends and family in a remote and beautiful range of densely-forest-covered mountains, I made the bold decision to backpack alone into the wilderness for a night; no one else had the desire or equipment to join me. Being an adventurer, I bought a map, found a region I liked, and decided to trek where there was no trail.
The journey began as peaceful and reinvigorating. The soft light through the trees and the charming sounds of the birds shaped a magical atmosphere that spurred on the best of moods in me; it spurred on a vigorous pace as well. I felt led to certain directional changes like a muse guides a writer. My uncharted path was art and my feet were the brush strokes of a wondrous creation.
In the midst of this outdoorsman stupor, I neglected to pick up a foot as far as it needed and caught an outcrop of rock. I lost my balance, stumbled over the side of a crag, and fell upon ground that gave way beneath my impact, sending me into the darkness of a hidden cavern.
…
GIVEAWAY
Comment on this post before 10:00PM PST on Saturday, October 1, 2016 to be entered in a chance to win a hardcover copy of:
H.P. LOVECRAFT: THE COMPLETE FICTION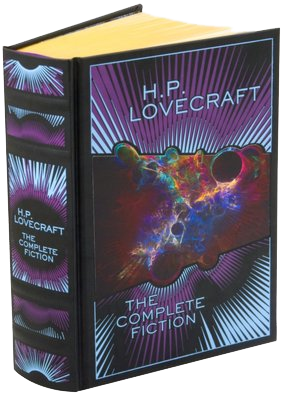 Winners will be chosen at random (at random.org) from the entrants after the cutoff at 10:00PM PST and will be announced by Sharkchild via email and on this post within 24 hours after the end of the contest.
The winners can be anywhere in the world! The winners must be at least 13 years of age. A winner must respond to Sharkchild's email within five (5) days to claim a prize.