TDV 100: The Eyeless Sight (The Unlike Light Sequel)
December 6th, 2016 by Sharkchild

There was a purpose to the keep, and although that purpose had not yet been revealed when the Man of Courage with his smoke candles stepped out of the prison of the dark into the peril of the light, it was always present and always forthcoming. It was only a matter of when it would be unveiled, and if we—the girl and I—would still be around to horribly receive its truth.

It was the most awful of ironies to be blessed with impossible sight after living in blindness—a gift stolen from some of us and a gift kept from others of us since birth—only to receive images of unbelievable horror that stained our supernaturally-imbued retinae and forced us to dwell again in the darkness we were so used to.

I remember awakening within the keep to sounds of jubilations—fellow captives celebrating the return of vision, proclaiming their approval of what they thought a miracle—only for those same cheer-filled countenances to devastatingly distort into visages of dread as they came face to face with the Creatures of the Light.

…



GIVEAWAY
Comment on this post before 10:00PM PST on Wednesday, December 7, 2016 to be entered in a chance to win both:
A SET OF THE THREE DARK VERSE HARDCOVER BOOKS, INCLUDING THE FIRST EDITION OF THE DARK VERSE, VOL. 1

A SET OF THE THREE ARCHIVAL PRINTS OF THE COVERS, NUMBERED AND SIGNED BY JOHN F. STIFTER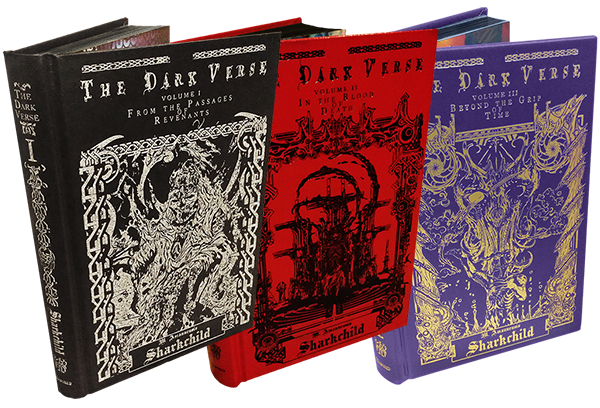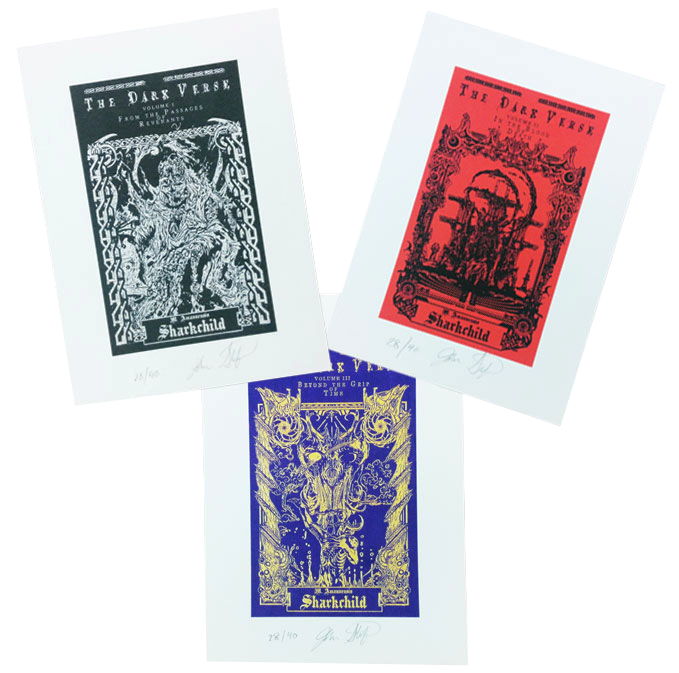 Winners will be chosen at random (at random.org) from the entrants after the cutoff at 10:00PM PST on December 7, 2016 and will be announced by Sharkchild via email and on this post within 24 hours after the end of the contest.
The winners can be anywhere in the world! The winners must be at least 13 years of age. A winner must respond to Sharkchild's email within five (5) days to claim a prize.