TDV 105: The Supplicants Of Pain
April 2nd, 2017 by Sharkchild

In memory, what I saw felt only as a dream—a picture so surreal that only the wild and deviant subconscious should have been able to conjure such a display. I doubted many of the account's details over time as knowledge and experience established a clear border between reality and fantasy. Even with the event elaborated upon the permanence of paper, a goblin of the mind worked to discredit its authenticity. But, when I saw my sister—when I saw her work and show the power of her tainted existence—the foreboding truth of this remembrance always struck forth.

I was four years old and playing alongside my sister in the bedroom we shared. She was one year older than I and was occupied by amusements apart from my own. Before me, an array of fantastical figurines were sprawled amidst a battle at the foot of a wooden block tower. I placed a ghost figurine at the pinnacle of the makeshift structure—an overlord preparing to weigh in upon the struggle with its mighty magic. I remember staring into its wide, black eyes when the pounding cadence began. I knew the sound; it was the rattle of our bedroom's sliding, mirrored closet door.

…



GIVEAWAY
Comment on this post before 12:00PM PST on Tuesday, April 4, 2017 to be entered in a chance to win one of two (2):
HARDCOVER COPIES OF
THE DARK VERSE, VOL. 2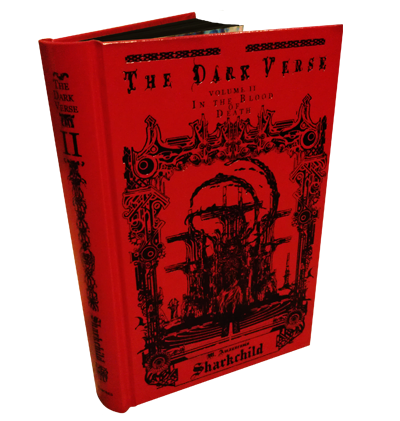 Winners will be chosen at random (at random.org) from the entrants after the cutoff at 12:00PM PST on March 5, 2017 and will be announced by Sharkchild via email and on this post within 24 hours after the end of the contest.
The winners can be anywhere in the world! The winners must be at least 13 years of age. One (1) valid entry allowed per person. A winner must respond to Sharkchild's email within five (5) days to claim a prize.