TDV 87: The Apocalypse Bringers
May 28th, 2014 by Sharkchild

A destroyed moon lay dispersed across the sky. Its fragments reflected a pale, red light. In front of these debris, a great multitude of meteors reached the atmosphere, raining across the land in streaks of flame. Concussions resounded in every direction that amplified the pandemonium of this planet's final hours.

"Sidideris desiterkan durs forlektis," my master proclaimed as he reveled in these grandiose moments of destruction. He revealed his speared teeth while smiling. As he did so, he flipped his long, red tongue just outside of his lips. His bare, burgundy, muscular chest flexed with approval. Veins rippled throughout his upper body and arms at their height hundreds of yards off the ground. One, lone eye sat as a gaping black hole within his face and oscillating, flaccid flesh made sounds of suction and popping as it churned across the top of his head.



BOOK GIVEAWAY
Comment on this post before 10:00PM PST on Wednesday, March 28th to be entered in a chance to win a hardcover copy of:
NECRONOMICON: THE BEST WEIRD TALES OF H.P. LOVECRAFT (COMMEMORATIVE EDITION)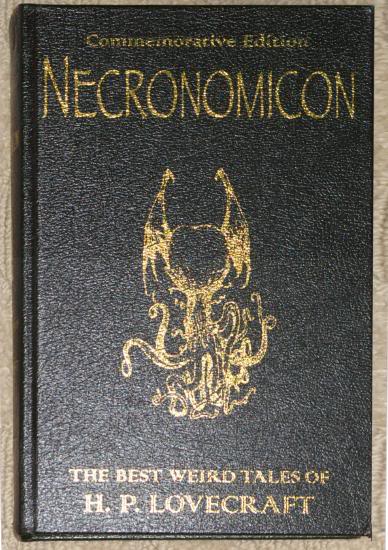 OR
Win one of two (2) hardcover copies of the upcoming:
THE DARK VERSE, VOL. 3: BEYOND THE GRIP OF TIME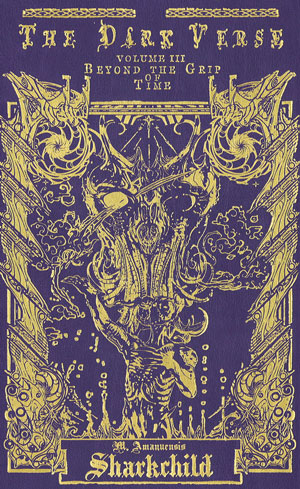 Winners will be chosen at random (at random.org) from the entrants after the cutoff at 10:00PM PST tonight and will be contacted by Sharkchild via email.
The winners can be anywhere in the world! The winners must be at least 13 years of age. A winner must respond to Sharkchild's email within five (5) days to claim a prize.
Winners:
Necronomicon: joe b (4)
The Dark Verse, Volume 3: Brain (6)
The Dark Verse, Volume 3: Sam (8)