TDV 99: It Concludes In A Receptacle
November 18th, 2016 by Sharkchild

Crisp, colorful, autumn leaves crunched beneath my footsteps as I walked through the tree archways of my neighborhood on a brisk, overcast afternoon. Every few moments, a gust of wind whistled above me, sending leaves to the whim of the hibernating world.

A pulse of soothing electronic music ebbed from my headphones into contemplative thought as if the sounds were an electrical charge powering my mind. My breath cast spells into the air with its frosty condensation. I pushed aside the present worries of my life—the lingering deadlines at work and the hardships with my wife. I strolled through the landscape holding only onto the inspirations of the seeable and its soundtrack.

In one of the clearings between two homes, where several towering trees held supremacy and presided like a secret society over the current matters of the land, a strange collection of fallen foliage caught my attention. Castles of leaves had formed around a section of the ground exempt from the debris. It were as if the leaves were piling up against something, but the something was not there.

…



GIVEAWAY
Comment on this post before 10:00PM PST on Friday, November 18, 2016 to be entered in a chance to win a:
DARK VERSE CROSSWORLDS REAPER T-SHIRT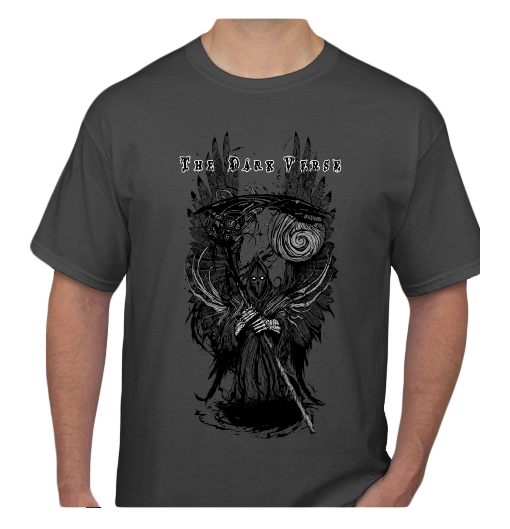 (Available in men's sizes S, M, L, and XL)
Winners will be chosen at random (at random.org) from the entrants after the cutoff at 10:00PM PDT and will be announced by Sharkchild via email and on this post within 24 hours after the end of the contest.
The winners can be anywhere in the world! The winners must be at least 13 years of age. A winner must respond to Sharkchild's email within five (5) days to claim a prize.