August 29th, 2017 by Sharkchild
I was a lonely man—an outcast. I did not and could not enjoy small talk or friendly "hellos" with the people that intertwined with my daily activities. If even I were to offer money to the homeless, they would not take it from me. The reason was a perfect trifecta of parts: one part due to half my face and left eye looking like a caved in pie, one part due to my visceral, ultra-violent apparel and brash scampering in a black wheelchair with a lifeless lower body, and the last part due to my personality being uglier than the first two parts. I used my disfigurement and disability to frighten, harass, and even bully; it was my way of making an impression in the world—it was my way of feeling alive.
I set out daily to make others feel an ugliness within akin to the ugliness I exuded outwardly, and I succeeded with ease. Whether shock, bitterness, or anger, I fed off of the reactions I prompted. Animosity amongst strangers was much easier to harness and to accept than one friendship with an individual who could not look me straight in the face. I treated my family no differently, although they were strangers to me all the same.
…
GIVEAWAY
Comment on this post before 12:00PM PST on Wednesday, August 30, 2017 to be entered in a chance to win:
A SIGNED HARDCOVER COPY OF
THE DARK VERSE BOOK OF YOUR CHOICE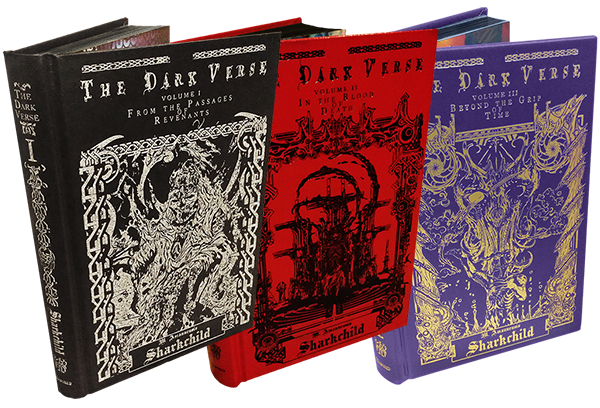 Winners will be chosen at random (at random.org) from the entrants after the cutoff at 12:00PM PST on Wednesday, August 30, 2017 and will be announced by Sharkchild via email and on this post within 24 hours after the end of the contest.
The winners can be anywhere in the world! The winners must be at least 13 years of age. A winner must respond to Sharkchild's email within five (5) days to claim a prize.
Winner:
lori byrd (23)
T-SHIRT ARTWORK
Here is a look at the t-shirt that John F. Stifter designed for THE DARK VERSE, VOL. 4 Kickstarter project launching on October 8, 2017!