July 26th, 2017 by Sharkchild
Close your eyes and listen to my voice.
"Seep into darkness. Let body drift away. Let thought ease into solemnity. Feel your life force hum. Feel your essence radiate and transcend boundary. Feel those powers of will enable the travelling of spirit.
"Now, look anew, but not with your physical eyes; open the cosmic eye inside you and look over distances greater than numbering universes and their expanding boundaries. Look beyond the knowable and make what is secret, yours.
"There are fourteen moons we seek and fourteen of you. Each of you will discover one of these moons. You will visualize and study it in your wanderings. You will feel its rotation and its atmosphere and its character. You will take its terrain in your hands and let it crumble between your fingers. You will see its skies and know its planet. Its essence will fully be known to you, and, with practice—and purpose—you and it will become one."
…
GIVEAWAY
Comment on this post before 12:00PM PST on Friday, July 28, 2017 to be entered in a chance to win:
A SIGNED HARDCOVER COPY OF
THE DARK VERSE BOOK OF YOUR CHOICE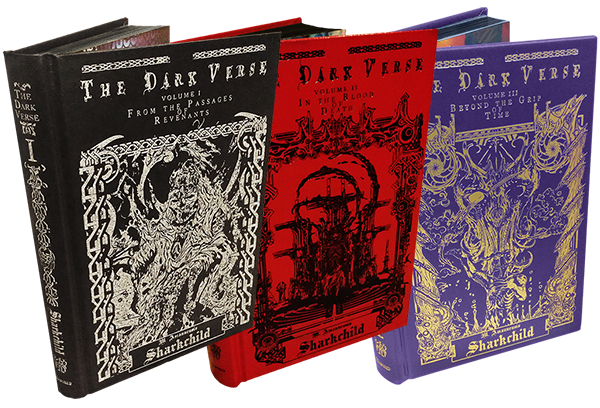 Winners will be chosen at random (at random.org) from the entrants after the cutoff at 12:00PM PST on Friday, July 28, 2017 and will be announced by Sharkchild via email and on this post within 24 hours after the end of the contest.
The winners can be anywhere in the world! The winners must be at least 13 years of age. A winner must respond to Sharkchild's email within five (5) days to claim a prize.
Winner:
youree (34)