January 1st, 2017 by Sharkchild
My new mother and brother arrived on the eve of my twelfth birthday. I was neither happy nor resentful with their addition. It had been three years since my mother died—three years of just my father and I—and I understood that there was a vacancy in his heart and in our home. My only worry was the possible disruption of my routine; I liked to do a great many things, and I liked to do them alone and on my time. I would say that my father and I had a very go-with-the-flow lifestyle. He kept to himself, I kept to myself, and then we would have our moments together in-between. I liked it that way, but I was open to at least being a little bit flexible.
My father came bursting into my room with an excited grin. "They're here," he said, looking sharp. He had shaved his thick gray and brown beard and was wearing a slick business casual outfit. It had been a while since I had seen his full face. He guided me to the middle of the house.
…
GIVEAWAY
Comment on this post before 8:00AM PST on Tuesday, January 3, 2017 to be entered in a chance to win:
A SIGNED HARDCOVER COPY OF
THE DARK VERSE VOLUME OF YOUR CHOICE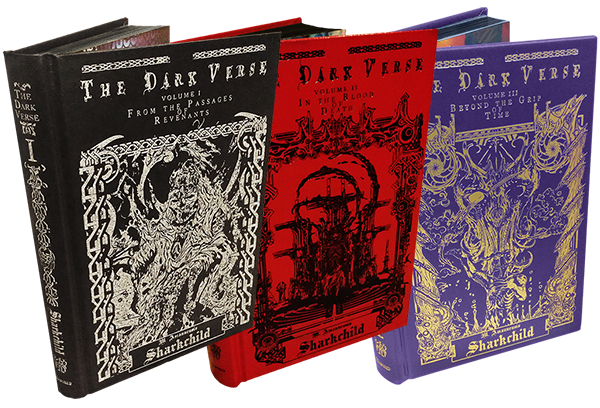 Winners will be chosen at random (at random.org) from the entrants after the cutoff at 8:00AM PST on January 3, 2017 and will be announced by Sharkchild via email and on this post within 24 hours after the end of the contest.
The winners can be anywhere in the world! The winners must be at least 13 years of age. A winner must respond to Sharkchild's email within five (5) days to claim a prize.
Winner:
Mark Chamberlin (8)