March 3rd, 2017 by Sharkchild
My wife turned out the lights, crawled into bed with me, and whispered, "I love you," into my ear before giving me a kiss on the lips.
"I love you, too," I whispered back.
I turned my way and she hers, and we faded into slumber.
"Wake up, wake up," my wife said to me as she ruffled my hair and kissed me on the forehead. "We have a fun day ahead." When she said "fun," she meant "long."
I grumbled and burrowed my face into my pillow.
"Oh, come on. It won't be that bad," she said in response, pushing my shoulder.
"The last time you said that I ended up living a second life while we wandered through that giant furniture store's maze of madness," I said into the pillow.
"Up!" My wife pulled off my sheets.
"Alright, alright, I'm up—and I hate it when you do that." I stood up and, in retaliation, tossed her onto the bed before playfully hitting her with my pillow.
The day started with a stop at a department store and its connecting mall to refresh the wardrobes for spring. Then it veered to a coffee shop before jumping to an art exhibit. We spent half an hour at a store picking up gifts for a baby shower my wife was to attend and then another hour savoring lunch at a quaint cafe she had been eyeing. Next we journeyed to a specialty decor store to look at a specific line of vintage office furniture and accessories. We purchased a rustic, wood mail sorter and a brass lamp with a medieval tower base before we were on the road again.
…
GIVEAWAY
Comment on this post before 12:00PM PST on Sunday, March 5, 2017 to be entered in a chance to win:
A HARDCOVER COPY OF
THE SPIRIT COLLECTORS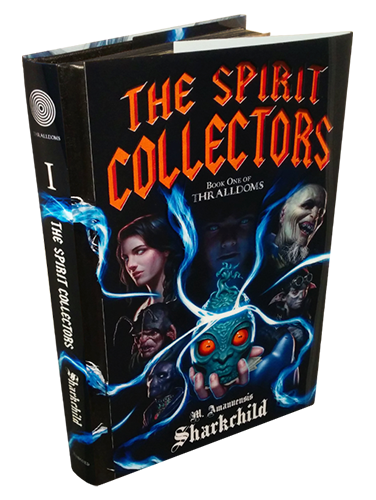 Winners will be chosen at random (at random.org) from the entrants after the cutoff at 12:00PM PST on March 5, 2017 and will be announced by Sharkchild via email and on this post within 24 hours after the end of the contest.
The winners can be anywhere in the world! The winners must be at least 13 years of age. One (1) valid entry allowed per person. A winner must respond to Sharkchild's email within five (5) days to claim a prize.
Winner:
sherry fundin (17)