April 21st, 2017 by Sharkchild
In the pit of night, in a barren land, beneath and within leafless oaks and upon untrodden soils, a gathering of vagabond Magic Bleeders shared in their woes around the warmth of communal flames. Distant battles painted the sky with colorful sparkles and bursts of glimmering energy that cut through the fissures of the branches.
Amongst those assembled, a bearded old man detached his hands at the wrists and floated them to a location within the top of the bonfire where the flames lapped up and kissed their bases. The hands burned and while they did they proceeded to cast out a riveting melody with the cracking of knuckles. Each finger popped different notes with its joints, collectively achieving a composition that uplifted the somber congregation. The tone of the music changed and enriched as the flesh shriveled.
…
GIVEAWAY
Comment on this post before 12:00PM PST on Saturday, April 22, 2017 to be entered in a chance to win a:
HARDCOVER COPY OF
THE SPIRIT COLLECTORS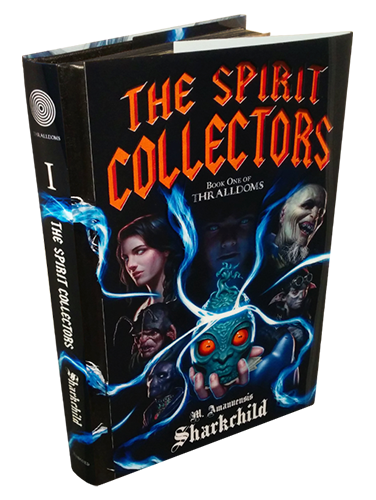 Winners will be chosen at random (at random.org) from the entrants after the cutoff at 12:00PM PST on April 22, 2017 and will be announced by Sharkchild via email and on this post within 24 hours after the end of the contest.
The winners can be anywhere in the world! The winners must be at least 13 years of age. One (1) valid entry allowed per person. A winner must respond to Sharkchild's email within five (5) days to claim a prize.
Winner:
Amber Williams (16)