February 8th, 2017 by Sharkchild
I stepped out of work for lunch and walked to the nearby delicatessen. I picked up a corned beef sandwich on rye bread and sat outside at one of the few cast iron tables available to enjoy it. The afternoon was not the warmest of days, but the sun provided a convivial blanket of illumination that made it feel warmer than it actually was. Keeping to myself, I intermixed the consumption of both food and the crossword puzzle I brought with me. About halfway through my interlude, I was interrupted.
"What garbage," the man who sat at the table beside mine said aloud to himself. "This has to be a joke." The man wore a brown suit and black, horn-rimmed glasses. His hair was disheveled and his middle-aged face was covered in wrinkles. He took one more bite of his partially eaten sandwich, wiped his mouth with a napkin, and half-dropped, half-placed the small, hardcover book he was looking at onto the table before standing up and departing, leaving the item amongst the remnants of his lunch as if it, too, were dispensable.
…
GIVEAWAY
Comment on this post before 10:00AM PST on Thursday, February 9, 2017 to be entered in a chance to win:
A HARDCOVER COPY OF
THE COMPLETE CTHULHU MYTHOS TALES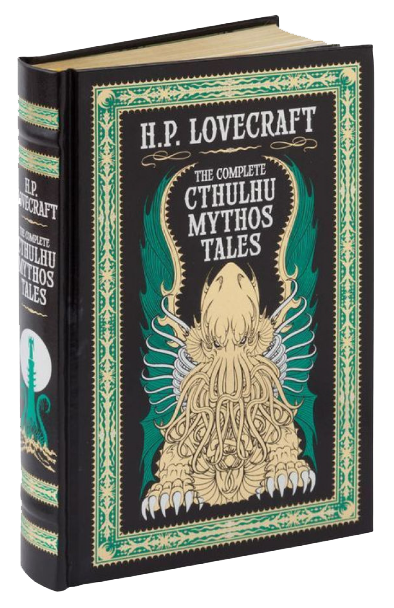 Winners will be chosen at random (at random.org) from the entrants after the cutoff at 10:00AM PST on February 9, 2017 and will be announced by Sharkchild via email and on this post within 24 hours after the end of the contest.
The winners can be anywhere in the world! The winners must be at least 13 years of age. A winner must respond to Sharkchild's email within five (5) days to claim a prize.