December 21st, 2016 by Sharkchild
Doorways are a means of passage, but are also non-circumventive impositions on passage that have varying degrees of access. Some are open to all. Some contain doors for the filtration of sight and sound, but are still open to all. Some have locked doors, allowing admission only to the possessor of a key. Others are barred for extended periods of time, warding off entrance into domains that have become hazardous or unhospitable. But, there were some doorways not constructed by design and formed, rather, by happenstance—by chaos, by accident. While these doorways were hidden from even the most skilled and aggressive of explorers, they remained reachable by the same coincidence that shaped them. But by merely existing, it did not mean that they should be entered. For just as a volcano's lava flows like a river, it does not mean that it should be swam in. So, too, were these doorways to be avoided, for at their junctures guardians waited to slay any trespassers with powers bestowed upon them by supreme, magical beings for the protected seclusion of their world.
These doorways carrying death as their destinations were called Killports. The beings that dispatched the guardians and protected their world were called Brutbelath. And the guardians—which I was one of—were called Obliterators.
…
GIVEAWAY
Comment on this post before 8:00AM PST on Thursday, December 22, 2016 to be entered in a chance to win:
A SIGNED HARDCOVER COPY OF
THE DARK VERSE VOLUME OF YOUR CHOICE

***EVERY 20 ENTRIES WILL ADD ANOTHER WINNER***

WINNER COUNT: 3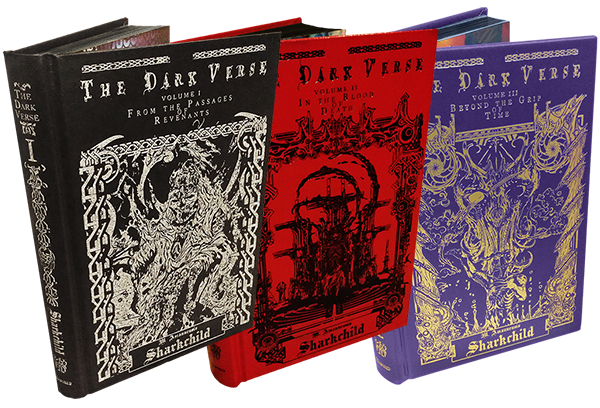 Winners will be chosen at random (at random.org) from the entrants after the cutoff at 8:00AM PST on December 22, 2016 and will be announced by Sharkchild via email and on this post within 24 hours after the end of the contest.
The winners can be anywhere in the world! The winners must be at least 13 years of age. A winner must respond to Sharkchild's email within five (5) days to claim a prize.
Winners:
smcmahon19 (20)
David Miller (9)
antogib (11)