October 21st, 2016 by Sharkchild
Ding-dong.
The doorbell rang.
I hesitatingly placed a bookmark in my afternoon read, pulled myself up from the couch, and lurched towards the front door. When I got there, I pressed my eye to the peephole to scout the visiting presence. Barely within view were two children somewhere between the ages of seven and nine—a boy and a girl—with curly black hair and pleasant faces.
I opened the door.
The two youths immediately pushed their way inside my house. Their swiftness of action superseded any reaction on my part. Being that they were young children, there was no comfortable or proper way to reverse their course at the moment I did make the mental note of their trespassing.
…
GIVEAWAY
Comment on this post before 10:00PM PDT on Saturday, October 22, 2016 to be entered in a chance to win a hardcover copy of:
H.P. LOVECRAFT: THE COMPLETE FICTION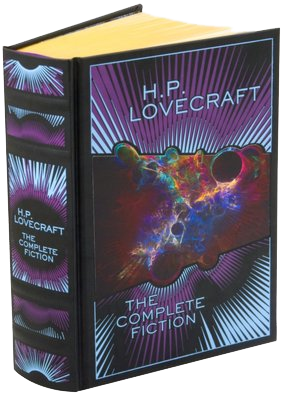 Winners will be chosen at random (at random.org) from the entrants after the cutoff at 10:00PM PDT and will be announced by Sharkchild via email and on this post within 24 hours after the end of the contest.
The winners can be anywhere in the world! The winners must be at least 13 years of age. A winner must respond to Sharkchild's email within five (5) days to claim a prize.
Winner:
Jim (37)